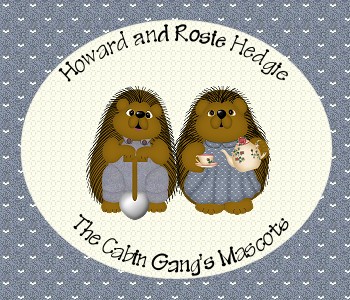 Rosie and Howard Hedgie
Country Cabin Gang Mascots





Hello There Cabin Ganger's !!!
Were Howard and Rosie Hedgie
And we've been asked by Tams to be your
Country Cabin Gang Mascots
Our job is to visit with everyone and keep an eye out
on the Cabin and all it's members
Howard takes care of all the handy work here at the Cabin
He keeps that fire going so that you all
have a nice warm cozy place to hang out and visit

But watch out Rosie says Howard is known
to get in trouble from time to time

Rosie keeps us filled with good videls and warm cocoa
and she is soon to start sharing some of her wonderful recipies.

Look for a new section to the Cabin coming soon
called Cooking With Rosie Hedgie
She is working on a special recipie corner
Just for us members here at the Cabin.
If would like to share your favorite recipies with Rosie
Just send Rosie a e-mail.







This page was created by Tams
For members of the Country Cabin Gang
Nothing on this page is for download

Special thank goes to Pia our Graphics Manager
For Creating our Wonderful Mascots and this wonderful set for us.